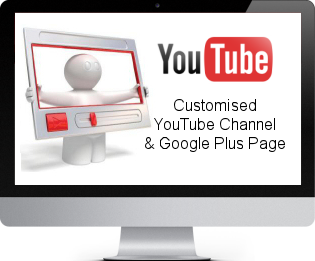 Let us help you to start using the power of YouTube engage your customers and showcase your products and services. YouTube is a video-sharing website that attracts around 3 billion views per day, many of which are people searching for more information and reviews on a specific product, or tutorials on a certain skill. We have been using YouTube effectively as a marketing platform for local business marketing that will showcase your business, services and products and drive buyers directly to your website. 
One very successful strategy is to make demonstration and review videos about the products and services you sell.
YouTube Channel Setup- Including Google+
It all starts with having a properly set-up and optimized YouTube channel, if your video is visible at the top of the video search results for your target keywords, you will attract more viewers. Often YouTube is overlooked as a powerful marketing tool to attract potential customers because of lack of time or know-how.

Here is how we can make it easy for you –
With our YouTube Channel Setup – Including Google+ we will create and customize your YouTube channel for your business and enter your detail into your business profile, including header, background and avatar images. Competitive keyword optimization for fast results within your market, once your video is ranking high on YouTube, it stays there for long periods of time. It also becomes visible within the Google search results, which drives even more traffic to your YouTube Channel.
As part of our YouTube Channel Setup we will upload your first feature video and a customized into and outro, which you can then use with any future video your wish to upload.
Setup Google Plus page.
Custom Design cover image and logo using your images.
Create and customize your YouTube channel.
Enter all your details into your YouTube profile.
Custom Design cover image using your images.
Keyword optimize your  Google Plus page & YouTube channel.
Create and upload your first feature video (using images and/or videos you have supplied).
Create a YouTube Intro and Outro video to attach to future uploads.
Keyword Optimise your YouTube channel.
Get your YouTube Channel Setup Today

$435.00
Click BUY NOW To Get Started TODAY!


Want More? Contact us to discuss your requirements and get a no obligation free quote.