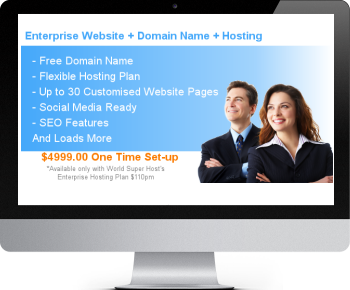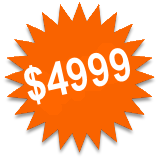 ENTERPRISE WEBSITE DESIGN
COMPLETE WEBSITE PLUS MONTHLY CONTENT UPDATES
The Enterprise Website option is perfect for larger, high content websites. Our Enterprise Website offers up to 30 customised website pages created for you to feature your business in detail. Along with all the great features offered in all our websites, we will work hand in hand with you in designing your website and it's functionality. Larger websites should receive better search engine results, often this is not the case with poorly written content and a lack of built-in SEO features. Ideally, the more content search engines can explore, the more listings will be logged. That is why we ensure every webpage/post we design is optimised with keywords, tags, headings and titles – carefully chosen for your target audience. 
With our Enterprise Website package we have included monthly content updates to keep your website up to date with your current business news and information and to keep your loyal customers interested and engaged as well as reaching out to potential new customers.  This is the perfect design option for a fast paced, growing businesses needing to save time – you focus on running your business and we will focus on maintaining your website so it reflects what your business is offering.
Enterprise Website Features
– Free Domain Name (New Registration Or Transfer)
– Flexible *Enterprise Hosting Plan  – No locked-in period – choose monthly, quarterly or yearly payments
– Up to 30 Customised Website Pages – Home + About + Contact + up to 27 more
– Up to 30 email accounts setup for you – admin@yourdomain + social@yourdomain + 28 user desired
– Up to 5 Professional layer sliders (slideshows and transitions)
– Customised Cpanel and WordPress backend
– Responsive Web Design – looks good on any platform
– Easy add/update content, images, videos or posts from pc/mac/tablet/smartphone
– 3 CUSTOMISED MONTHLY CONTENT UPDATE (post content)
– SEO – keywords ,metatags, titles done for you
– Search Engine Friendly – sitemaps created and submitted to Yahoo, Bing, Google
– Google Analytics and Webmaster Tools integrated
– Comprehensive traffic statistics (just login to view who is visiting)
– Optional Monthly SEO tasks performed and emailed reporting – consistently grow your traffic over time
– Social Media Ready – opengraph meta tags for Facebook, Twitter, Google+, Pinterest
– Visitors can share to Facebook, Google+, YouTube, Twitter, Pinterest, Linkedin
– Optional Matching Social Media Sites with automated social updating
6 Free revisions included
Completed within 6 weeks
Enterprise Website
Only $4999.00 Website Design
Enterprise Hosting plan – $110.00p/m. 
CONTACT US TODAY TO FIND OUT MORE