Client – Pet City
Business Type – Pet Store
Website Address – http://petcitywa.com.au 
Description – Pet City was first established in Balcatta Western Australia during 1988, since then they have grown into 12 great pet superstores with over 50 qualified friendly staff, who are passionate about pets and & providing friendly professional advice and customer service.
Our Work
Website Design – When we were first approached by Pet City they had 5 pet stores and a static 5 page "homemade" website. Trouble was, nobody knew it existed, it was hard to find buried in the back archives of Google, the site was not getting any traffic. It has taken 3 years of consistent progress to make the Pet City site a high traffic site which drives real people into Pet City retail stores as well as providing Pet City with additional income streams through eCommerce sales – all of this with no paid advertising efforts. The Pet City website enables staff to upload images and videos of the pets they have in their stores and share them with people on social media sites. Pet City website proudly has a subscriber list of over 12,000 members who receive regular email updates, specials and more all from their website.
In December 2013 Pet City approached us to re-build their website. The aim was to produce a dynamic, modern looking website without loosing the fantastic SEO statistics, easy content management system used daily by staff across all 12 stores and of course the popular customer interface including mailing lists, club membership interactions, online shop and membership discount offers. 
The new website design was launched January 2014 and we couldn't be happier with the result – see it for yourself – Pet City WA.
eCommerce Solutions
Shopping Cart – Our own customized version of osCommerce serves as a solid and feature packed eCommerce platform. We will match the shopping cart theme to your website. The Pet City shopping cart is built on the base OSCmax with many features custom built as part of our own form of the popular osCommerce shopping cart software.
Online Shopping Cart – http://petcitywa.com.au/catalog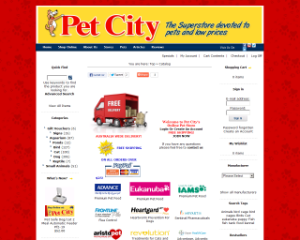 eBay – We assisted Pet City with the set-up of a new eBay account and integrated PayPal account and then created their eBay about me page and eBay store. We hand chose some products from pet city that are popular and that could sell with a worthwhile profit, we then worked the eBay site until we built the Pet City eBay brand and gained Power Seller Status. We provide ongoing support and assistance to the Pet City Staff and management with their eBay and eCommerce systems as well as providing continuous monitoring of the security of both their PayPal and eBay accounts.
eBay Store – http://stores.ebay.com.au/Pet-City
SEO Services
White Hat Search Engine Practices have meant petcitywa.com.au has earned a secure and solid search engine presence. Having complete responsibility for all of the SEO for the Pet City website we knew we needed a solid plan to first get traffic to Pet City, then drive more people into their stores as well as help generate online sales.  For Pet City to receive consistent traffic and consistently improving search engine rankings despite every Google update we have focused on pure, good sound and logical search engine practices and we have monitored and tweaked the website and profiles to help keep things in balance. Pet City have remained unaffected by Google changes over the years because our SEO practices are designed in accordance with what the top search engines like Google like to see and so our approach to SEO is to build systems into a website that clearly help deliver the most ideally formatted information to deserve high listed search engine results and therefore gain more site visitors for being positioned in the right way. The secret to long lasting success is to never try and falsely raise traffic to a website or trick or deceive search engines with black hat practices.
Pet City now enjoy over 50 different keywords in the post position of Google and hundreds of variations of keywords in position 2, 3, 4 ,5 etc. We achieved Google first page listing for many keywords with Pet City and they persist today. Pet City had it's competition, there is a very successful Facebook game called Pet City and there are Pet stores all over the world and in different states of Australia that are also called Pet City so the competition for the keyword of Pet City was tough when we knew we couldn't use a single black or grey hat method. We achieved the listings by having a good clean site structured correctly so that Google could easily find what it needs. 
We listed each pet city store on Google Maps completing the listing information for each store and linking the maps throughout their website and from social sites. When Google places listings are correctly setup Google GEO targets the search engine user and shows them the nearest stores.
Social Media Services
Custom Built Social Media fully integrated into the main website.

Facebook URL – https://www.facebook.com/petcitywa

Twitter URL – https://twitter.com/petcitywa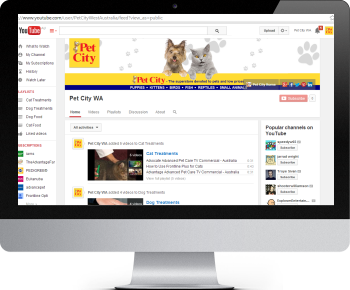 YouTube URL – https://www.youtube.com/user/PetCityWestAustralia


Contact Us today for a free quote.