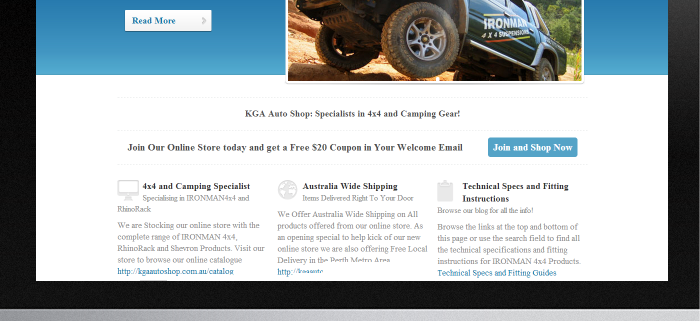 Client – KGA Auto Shop
Business Type – Auto Store
Website Address – http://kgaautoshop.com.au
Description – KGA Auto Shop is a Perth based auto store providing auto parts and accessories and specializing in IRON MAN 4×4.
Our Work
Website Design – KGA Auto Shop needed an affordable website and online shopping solution that would showcase their products and services with the aim of expanding their consumer reach.
E-commerce Solution
E-commerce Services – Set-up of eBay account and eBay Store.
E-commerce Website – http://kgaautoshop.com.au/catalog
Other Services: WordPress and osCommerce Maintenance. Submission of Products to On-line Shopping Comparison Services.
 
SEO Services
Creation and maintenance of Google Accounts, Google Maps, Analytics, Adwords.

Contact Us today for a free quote.